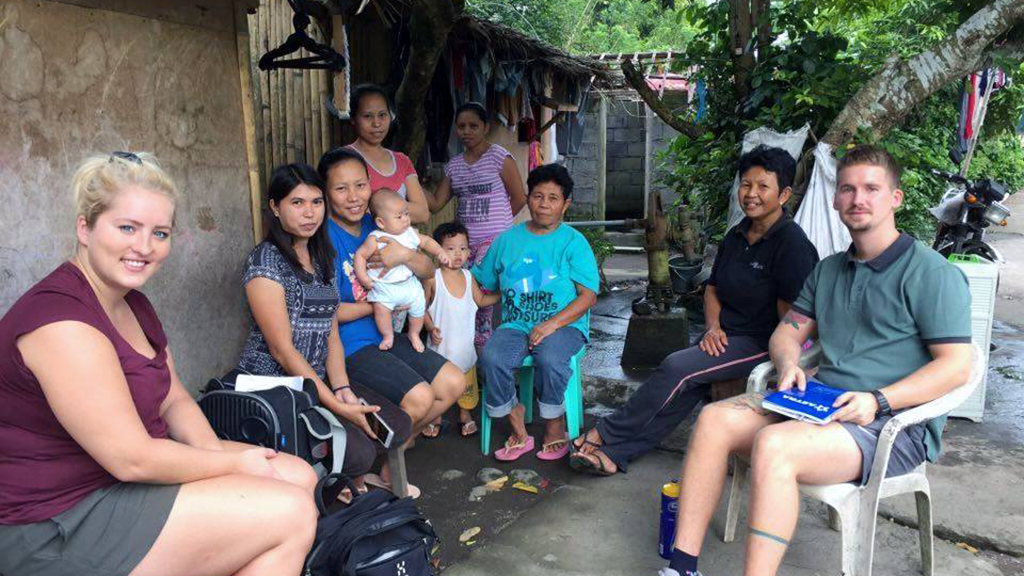 In early November, DIB sent two trainees from the Disaster and Risk Management Training to the Philippines. Here, until the end of January, they will be assisting our local partner ALTERPLAN with disaster prevention. Read about Signe and Frederik's first meeting with the Philippines below.


Welcome to Manila!
As expected, our first meeting with the Philippines - including Manila - was both overwhelming, noisy and full of life. The traffic is very chaotic as there is a road network, but no clear rules on who and when are driven across a junction. It seems to be about finding a hole in traffic, crossing fingers and then pressing the accelerator to the bottom. The public buses, called Jeepneys, are old World War II military trucks, which now roam among thousands of modern cars and scooters with up to 6 passengers on each. It wasn't long before we found out that the Philippines is a very friendly and full of helpful people, and even in a big city like Manila with a population of over 10 million, it is not uncommon for people to greet with a 'Hello ma'am, can I help you?'. At the same time, we are both very curious about the culture and try to integrate ourselves in the best possible way. Fortunately, Filipinos are very excited about our curiosity and do not miss an opportunity to dedicate themselves to their exciting traditions and culture, even though we are two completely foreigners.
Our first meeting with the people from ALTERPLAN was very positive and the project, which we become part of, seems both well organized and of high quality. An exciting and challenging course is planned for us, and we go to the tasks with lots of energy and enthusiasm. Our primary task at present is to collect "Most Significant Change" (MSC). It is a tool used to evaluate projects through the collection of qualitative data from interviews of the affected population. We are currently preparing for next trip to Ligao south of Manila, where we will interview some of the people affected by ALTERPLAN's work. We are very excited to be out in the field and feel well prepared for the assignments, as both our studio and DIB and ALTERPLAN have prepared us thoroughly for the work.


A little about Signe and Frederik
Signe is 24 years old from North Jutland with a large N, but moved to Copenhagen a year and a half ago to study disaster and risk management education at Metropol. She has been employed in the postal service, state emergency preparedness and municipal rescue preparedness before she began her studies. Her previous jobs, family and personality have made her a solid North Jutlander with both legs planted firmly on the ground. Signe sees a challenge as something positive and exciting, and will, through her internship at DIB and ALTERPLAN, try to make a difference for the people she meets in the Philippines.
Frederik is 26 years old and comes from Copenhagen, where he studies at the Disaster and Risk Management program. Prior to his education, he spent seven years in the Armed Forces with service at the Gardehusarkasernen in Slagelse. Throughout his time in the Armed Forces, Frederik has gained a lot of tools - including management and monitoring - that he uses in his education. The time spent in the Armed Forces was two missions to Afghanistan, and the experience he has with it he will use in his internship in the Philippines. When Frederik is not studying, he goes to Muay Thai a couple of times a week. As a person, Frederik sees himself as hardworking, instructive and with a focus on the process as the goal, rather than the result.