DIB has been committed to Bolivia from the very beginning - this is actually where it all started back in 1989, first with sustainable settlement and local planning, siden med noget vi har kaldt "øko-alfabetisering". Senest har vi også forsket i husdyrsygdomme, og som noget helt nyt, er vi i gang med en nødhjælpsindsats hos lokalsamfund ramt af skovbrande i Chiquitanía. Vores mangeårige engagement i Bolivia har givet os et godt fodfæste i landet og vi har opbygget et stærkt netværk til aktører på alle niveauer.


Playful learning and eco-literacy
DIB has worked with our Bolivian partner organization Teko Kavi over the past ten years on the Aprender Jugando, og tredje fase afsluttedes i marts 2020.
Aprender Jugando means playful learning and is precisely about developing and implementing a playful approach to teaching sustainable living in Bolivian schools. The concept has been called "eco-literacy", and the movie below briefly explains what it is about:
In collaboration with civil society organizations, local authorities and teacher education, the project has been successful in establishing a link between school and local community. It has helped to enable the population to identify environmental problems and mobilize around a good life in balance with nature.


Research on animal diseases in the jungle
Teko Kavi var også vores partner i et netop afsluttet pilotprojekt omkring forskning og forebyggelse af husdyrsygdomme i lokalsamfund i Amazonas. Projektet NETCAP-DIB project blev udviklet og gennemført i tæt samarbejde med forskere fra DTU og KU, og i januar 2020 fik vi bevilget midler fra CISU til at fortsætte arbejdet i San Buenaventura under projektet NEXTCAP, der løber til juli 2022.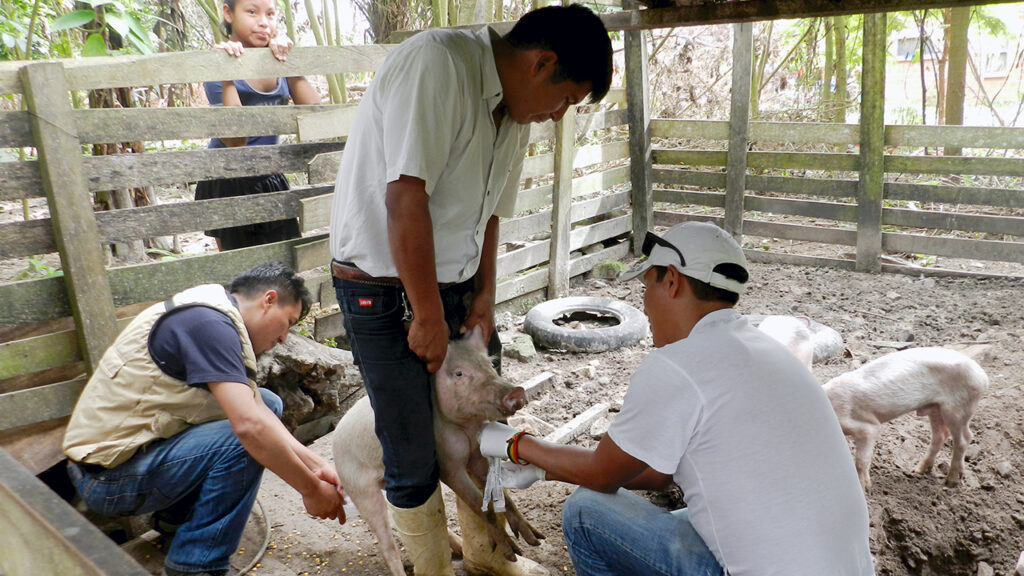 Formålet er at forbedre levevilkårene for den oprindelige befolkningsgruppe tacana i Bolivias afsidesliggende Amazonas-region gennem opbygning af netværk og kapacitet til at forebygge og bekæmpe sygdomme, der spredes mellem dyr og mennesker.
Methodically, the project is rooted in One Health Approach, which focuses sharply on the interaction between people, animals and the environment in the promotion of sustainable health solutions.


Emergency relief for communities affected by natural fires
I efteråret 2019 tog vi hul på et nyt kapitel sammen med Teko Kavi. Vi har nemlig fået en bevilling fra nødhjælpspuljen Danish Emergency Relief Fund (DERF) til at bekæmpe og begrænse konsekvenserne af naturbrande, der hærgede i det østlige Bolivia. Vores indsats yder humanitær hjælp til 1827 mennesker fra 15 lokalsamfund i form af rehabilitering af vandkilder, sikring af adgang til sundhedsydelser og psykosocial støtte, reetablering af landbrugsproduktionssystemer og opgradering af den lokale kapacitet inden for brandforebyggelse og -håndtering. Interventionen løber til oktober 2020.